You're getting married in Italy. You have decided that Tuscan hills covered in olive groves and vineyards are the perfect backdrop for a wedding feast. But what will you eat?
At the two best weddings in Tuscany I've attended — one a 250-guest, no-expenses-spared urban extravaganza, the other an intimate gathering of 40 for a countryside wedding — there was a common thread: simple food of the highest quality. This is the type of meal Italians love best.
While Tuscany is the heart of the artistic and architectural glories of the Renaissance, its celebrated culinary tradition is the genuino (unadulterated) food of the countryside. A meal in Italy is never a rushed affair. Instead, you move in a slow dance from aperitivo to starter (antipasto) to first course to second to dessert.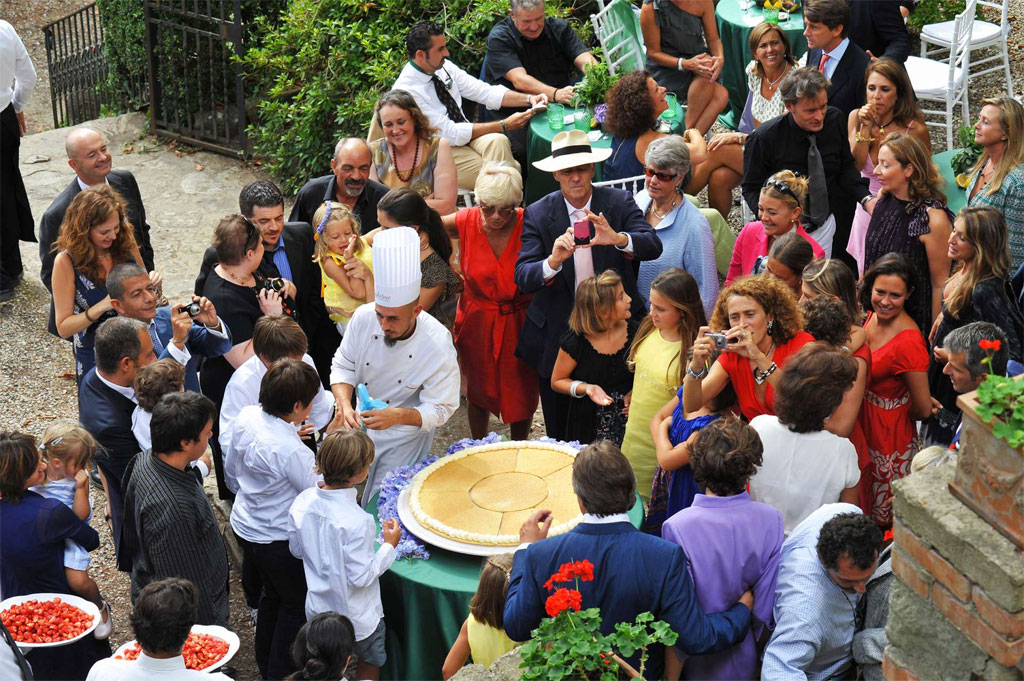 What is on a traditional Tuscan wedding menu?
A typical Tuscan wedding reception begins with a welcome drink. You may choose a high-quality Prosecco. It might feel equally festive to offer Aperol Spritz or a Bellini, along with non-alcoholic drinks like fresh lemonade or sparkling water.
This is also the moment to "open the appetite" with aperitivo snacks, including salted almonds, olives or Sicilian Pantelleria capers. You then move onto warm dishes like arancini (deep-fried balls of risotto), mini bruschetta, and skewers of freshly caught local fish. Local cured meats like wild boar prosciutto or salami also make an appearance.
Next, guests slowly make their way to long tables, where they'll find a starter. A chickpea cream with tempura sage leaves, perhaps, or the traditional Tuscan Pappa al Pomodoro (tomato and bread stew) topped with burrata and basil.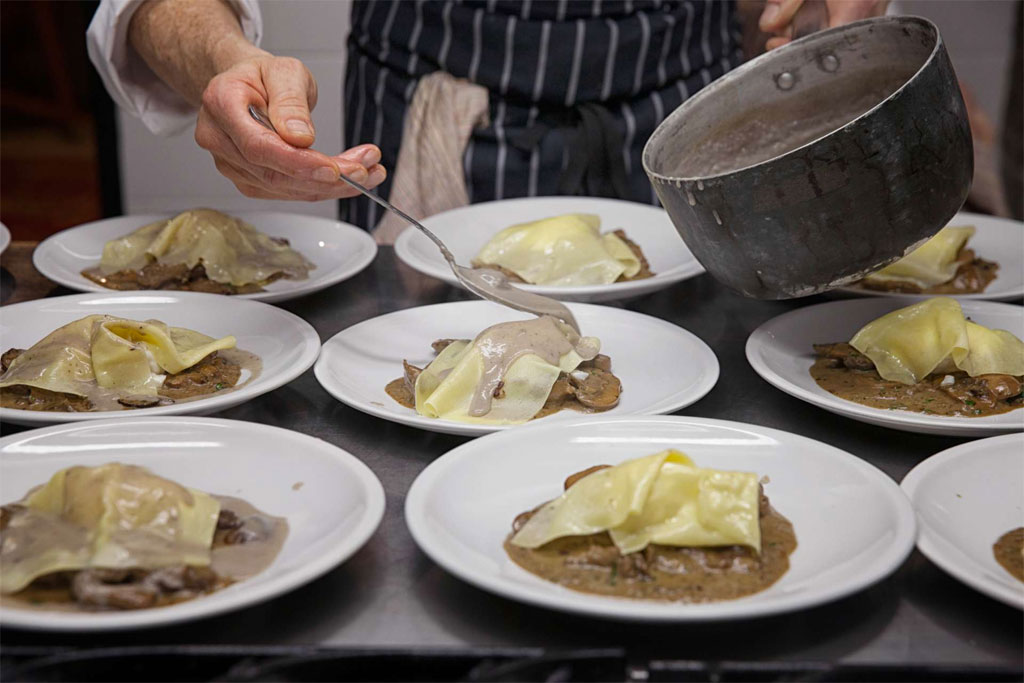 The next, primo, course is typically pasta or rice: freshly made ricotta and spinach ravioli or a delicate saffron-infused risotto with courgette flowers. The main course, which follows, typically includes meat: beef fillet with a sauce of local Brunello di Montalcino wine, perhaps, or lamb cutlets in pistachio and almond crust. Both come with salads or seasonal vegetables, and all is accompanied with local Tuscan wines.
In Italy, couples traditionally serve a millefoglie for wedding dessert. Similar to the French millefeuille, this giant cake features thin sheets of crispy filo pastry layered with a light Chantilly cream, fresh fruit and sprinkled with a dusting of powdered sugar. At some weddings, you watch chefs compile the cake before your eyes.
While this sounds like an enormous amount of food, portions are modest. Spread over a leisurely party, this grand feast acts as a conduit for conversation, not an exercise in excess. Tuscan food, like the landscape, relies on the charm of its simple, seasonal ingredients.
The above is a sample menu, a slice of Tuscan tradition, but no one will object if you choose what suits you and your guests best. After all, most western wedding conventions broadly seen as essential — white wedding dresses, say — have only been in fashion since Queen Victoria's time.
If you get married in Italy at one of our Tuscany wedding villas, with the help of our award-winning concierge team and local wedding planners, there's leeway to do exactly what you want.