When you think of your wedding in Italy, perhaps you conjure up images of what you and your beloved will wear; what sort of meal you'll enjoy with your closest friends and family, and how you'll dance into the night. But is your heart set on a wintry white theme? Or will that dancing take place under the stars on a balmy night?
Choosing your venue, bridesmaids and guests — these are all important considerations. But have you considered which time of year is best for your wedding in Italy? There's weather, seasonal food, and location to take into account. June, July and August are the sunniest months, and by far the most popular times of year to marry. But that also means less availability of venues and accommodation for your guests, plus more crowds. You might consider the shoulder seasons instead, taking advantage of the sunny flower-filled hilltops of Umbria in May, or the crisp but sunny early autumn days in Tuscany for the perfect celebration.
Use our month-by-month guide to help you choose.
The best months for your Italian wedding
January - April Weddings in Italy
From the festivities around the Feast of the Epiphany (6th of January) to Carnevale, the fortnight leading up to Shrove Tuesday, this is not a sleepy time of year, particularly around Venice. Locals will be up for a celebration, and this could be a wonderful time for an indoor service and reception.
Except for crowds in Venice during Carnevale, this is a relatively quiet time of year in Tuscany, Umbria and Veneto, so accommodation is available. You might host a rehearsal dinner in your villa near Florence or enjoy a gondola ride on the Arno or the canals of Venice without the hoi polloi.
These are also excellent months to eat in Italy. From Sicilian blood oranges in January to Cenci — fried puff-pastry topped with icing sugar that appears before Lent, there will be plenty of treats to savour with your guests. Most prized is the "Italian truffle", which grows exclusively in this country and is the most expensive type of truffle in the world. Also the most fragrant, it is celebrated for its garlicky, earthy flavour.
Cons:
Weather is never guaranteed at any time of year, but the early months of the year will be cold. Weather in Italy ranges from 10℃ (50℉) in January to around 19℃ (66℉) in April.
You'll be indoors if you marry at this time of year. The good news is that rainfall isn't high. You'll be mildly cold, but most often dry.


May Weddings in Italy
We are not supposed to be biased, but this is one of our favourite months to visit Tuscany, Umbria and Veneto.
Right before the peak tourism season begins, you'll find hilltops covered with wildflowers and plenty of sunny days.
Torre Palazzone is ideal for a May wedding as it has plenty of outdoor living and dining areas, and the outdoor pool can be heated for pool parties.
The weather has warmed up by now. From Verona to Perugia, expect daytime temperatures of 22℃ (72℉), 8 hours of sunshine each day, and 12 days per month with a bit of rainfall.
Evenings are warm enough, and days long enough, to enjoy apertivi outside. You can also enjoy a heated pool on a sunny day in the lead-up to the wedding.
Cons:
Expect the evening temperatures to drop, so make sure you don't plan to host the entire reception outside.


June Weddings in Italy
During this verdant month, the weather warms up and the wildflowers are at their most glorious before the peak summer sun browns the fields.
Expect daytime highs of 26℃ (79℉) and lows of 13℃ (55℉) at night. If you are interested in packing in a bit of culture for your guests surrounding your wedding, you might try to coincide activities with the Spoleto Festival in Umbria. Here you can find outdoor performances of opera, ballet and music.
This is the season for courgette and pumpkin flowers, which make a perfect antipasto. Strawberries and the first harvest of figs also abound at this time of year, and make refreshing gelato flavours.
Cons:
There is a slightly higher risk of rain in June (11 days on average) than in July (7 days) or August (8 days).


July Weddings in Italy
Remove crowds from the equation and July is the optimal month in Tuscany, Umbria and Veneto. The sun is shining, vineyards, olive groves and farms are in peak growing season, and life is most happily lived out of doors.
Marry at this time of year and spend the days before and after lazing by your private pool with your friends and family, or taking a cooking class to exploit the best of the summer produce — all of which you can book through our concierge service.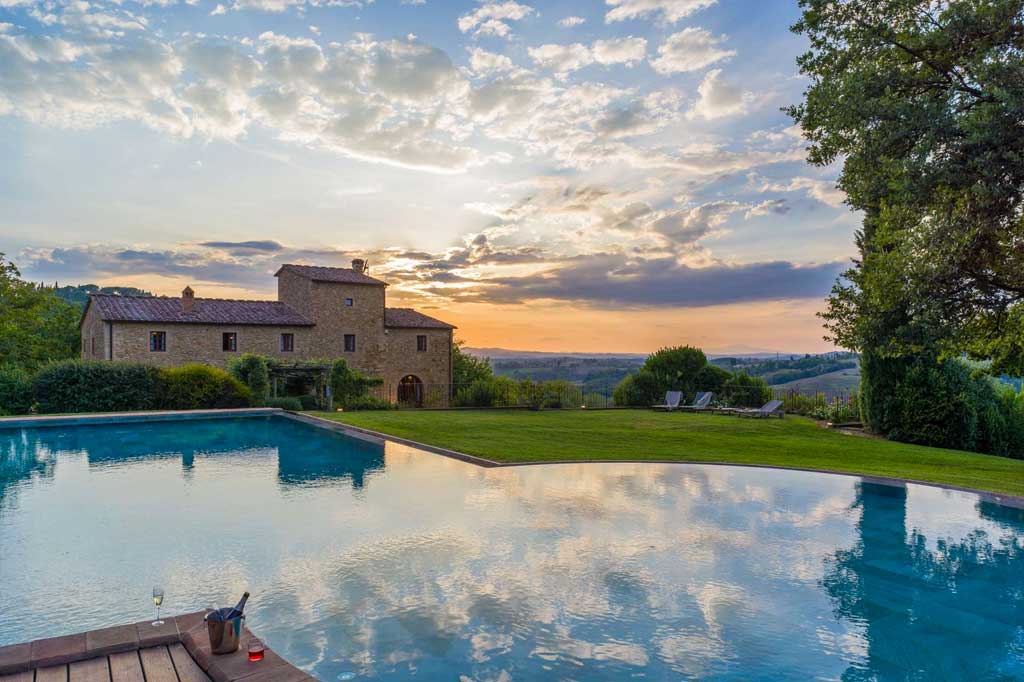 Podere Celli is suited for a July wedding as the terraced garden and courtyard — with views over Chianti — can host lots of people for a wedding reception, and the large travertine swimming can keep everyone cool on a hot summer's day.

Pros:
July is one of the hottest months of the year. You can expect daytime highs of 29℃ (84℉) and evenings around 15℃ (59℉), which will easily allow for outdoor receptions.
Beat the heat with a refreshing starter of fresh melon and local prosciutto.
Cons:
This is, understandably, a popular time of year to marry, so it's best to book as far in advance as possible to get exactly what you want (restaurants, activities and additional accommodation for guests).
Expect to see crowds in popular destinations such as Siena and Florence, at this time of year.


August Wedding in Italy
August is top tourist season. People flock here for the hot days and sultry nights, which are perfect for your summertime wedding.
August and July are the hottest months of the year, temperatures can hit 30℃ (86℉). Make sure to bring your peak summer wardrobe and plan to spend time cooling off by the pool at your villa in Italy.
This month is all about the local produce, which is at its finest at this moment. Tomatoes will be packed with flavour from the summer sun and shine on bruschetta, a salad caprese, or fresh sauce.
The prized Amalfi lemons are also at their best now, and make a refreshing granita.
Cons:
This is peak season, so book as far in advance as you can. Strategise about bringing the culture to you via cooking lessons, exclusive behind-the-scenes museum tours or private vineyard tours and tastings.
Ask our travel concierges to book bespoke activities for you and your guests.


September Wedding in Italy
As with May, this is a canny time of year to schedule an Italian wedding. You'll find warm, sunny days, but not the extreme heat of the summer.
The harvest season continues, with excellent local produce, and you may catch a bit of the grape harvest, too. This is a lovely time of year to see winemaking in action.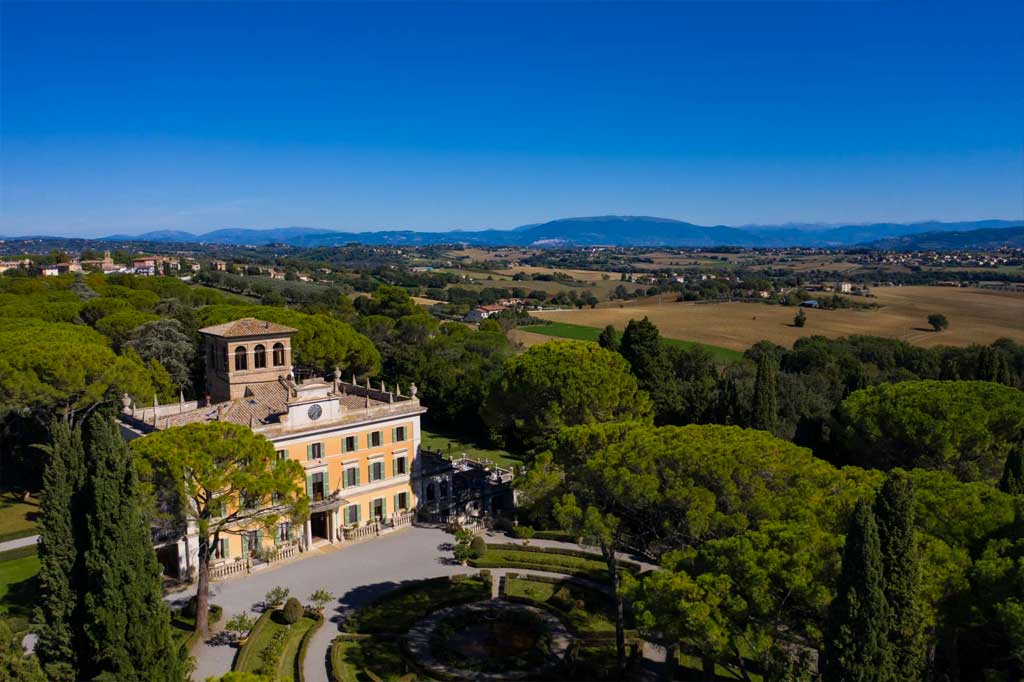 Pack an extra layer for al fresco dining in the evenings, but expect long, sunny days with an average 26℃ (79℉).
With fewer crowds, you'll have an easy time booking activities. Most restaurants which may have closed in August will reopen, allowing you to host rehearsal dinners or bridesmaids' gatherings at Michelin-starred venues. Ask our concierge team to advise on the best restaurants in the region.
Cons:
The days are getting shorter — seven hours of sun, rather than the peak of 10 hours in July. Picture a cosy, rather than balmy, celebration.


October Wedding in Italy
Summer has come to an end, and we are well into autumn.
This is the peak production time in Italy's green heart, Umbria. Grapes and olives have been harvested, truffle season is fast approaching. White Truffles are celebrated from late October through early November — so if the wedding menu is a big motivator for you, this could be the perfect time to host your marriage.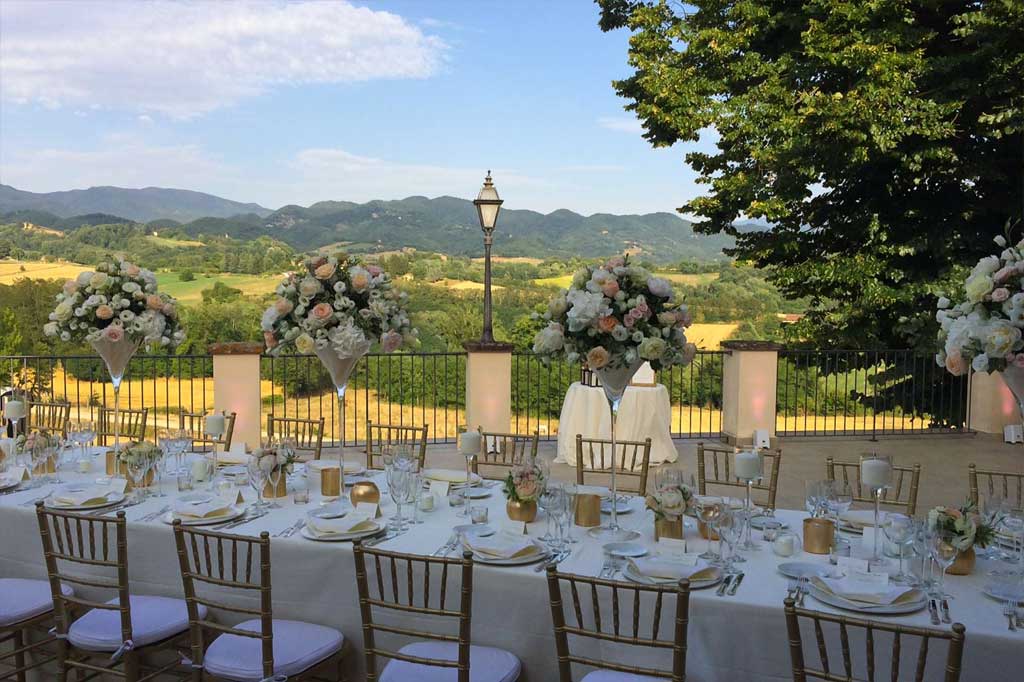 You'll have many of the region's best sites to yourself at this time of year. Although you won't be lazing by the pool in the sun, you can keep guests active with truffle hunting and wine tasting. Our concierge team to advise on the best local activities.
This might also be a good time of year to indulge in a bit of pre-wedding shopping. Pamper yourself to some Italian haute couture, or surprise family and friends with some artisanal gifts from Florence.
Cons:
In autumn, you'll likely find sunshine and blue skies for about five hours each day. But daytime temperatures won't go higher than about 19℃ (66℉).


November - December Wedding in Italy
November and December are the best months to witness the "real" Italy.
Tourism has slowed, but the mild climate will allow you to spend time outdoors. This is the perfect time of year for a cosy wedding with a focus on autumnal feasting.
There's great availability at this time of year, for both wedding villas and chefs. With the weather generally cool and damp, and the best of the harvest just completed — olives, grapes and truffles — November and December are the perfect time for wine tasting, cooking lessons, and food market tours with your guests.
It's a great time to visit some of the region's best restaurants, where the year's olive oil and the most prized truffles will be on display.
Cons:
Expect average daytime temperatures of 9℃ (54℉). Some restaurants close for a rest at this time of year, so make sure to check in advance.
Some of the villas in our wedding collection like Podere Celli, I Corbezzoli or Torre della Duchessa host ceremonies and receptions throughout the year. Others like The Estate of Petroio or Zambonina are available from May to October. Take a look at our full collection of wedding villas to see which venue is right for your celebration.